Background
The CSX Pier in Tampa, Florida, is used to load and unload barges. CSX carries a variety of commodities important to our economy and way of life, including consumer products, automobiles, food and agriculture products, chemicals and energy products. Major commodities produced or consumed within the state include containerized consumer goods, phosphates, coal, aggregates and light trucks.
Challenge
The pier was damaged when it was struck by a loaded barge during a storm. A structural analysis revealed about 70% of the pre-stressed cables were either broken or weakened. The pier was also weakened by salt water entering through cracks and spalls.
Solution
The solution included a large amount of carbon fiber to be applied to the underside of the beams. The beams were 20" thick, 6 ft. wide x 100 ft. long. Since the design called for many layers of carbon uni to be applied, we recommended a pre-molded piece. V2 custom molded a plate that was 17" wide, ¾" thick and 40 ft. in length. The plate was attached to the bottom of the beam mechanically as well as with V2 100 Epoxy paste. The beam could now withstand the 1.5MM lb. crane that travels back and forth on the pier.
2013 Award of Excellence

---
V2 Products Used
V2 Custom-Molded Plate
V2 100 Epoxy Paste
Engineer
Biller Reinhart Engineering Group, Inc. | Tampa, FL
Contractor
Premier Corrosion Protection Services, Inc. | Tampa, FL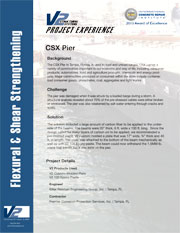 ---
The Process
Before
CFRP plate lowering for application
After CFRP plate is applied
Applying CFRP fabric for shear strengthening
Applying CFRP fabric for shear strengthening
After applying shear