There isn't often the luxury of time when considering repairs for concrete parking structures. They are typically in high demand and shutting them down for any length of time is inconvenient and can create large disruptions.
V2's proprietary carbon fiber T-Biscuit has proven to be the simplest and most economical solution on the market today to repair failed flange-to-flange shear connectors of pre-cast double Tee beams, which often fail as a result of fatigue and corrosion. The pre-laminated plates, manufactured at V2's Auburn, Alabama, facility, are inserted into a slot that is cut from the top of the beams, 90 degrees across from the joint.
The plate is shaped to mimic the curve on a 14" diameter saw that is used to make the cuts. The slot is then cleaned out and V2's two-part epoxy, Biscuit Bond Paste, is inserted into the slot and onto the biscuit surface before being inserted into the slot.
Over 60,000 units have been installed by V2 authorized installers, including this project in Dallas where over 2,500 T-Biscuits were used to repair parking garages at upscale condominiums.
T-Biscuit Advantages:
Easy to install
Seamless finish
Economical
Minimal disruption during installation
Strong & proven performance
Call us today to learn more about V2's best solution for failed shear connectors!
Learn more about V2's StructureWrap structural reinforcement for other applications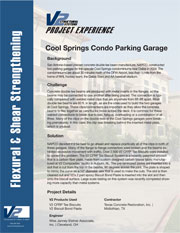 Cool Springs Condo Parking Garage Project Profile
Download PDF
---
The Process
Cutting slots
Prepping slot
Mixing paste
Applying epoxy paste to slot
Inserting biscuit in slot
Completed